I completely missed the boat on this one, but apparently, ten months ago, Chyrp came back.
Provided the project persists and progresses, I might consider taking another look at the platform that I had once loved. In the meantime, I'll stick with Habari - which I have grown accustomed to. I know that Chyrp is a very young product, but it's sudden termination was simply too much to bear - I honestly can't get my hopes up again.
Truth be told, I'm actually very pleased to hear that the product was restarted - it would have been a shame to have let such a promising piece of software go to waste. Even Chyrps website's design was delicious: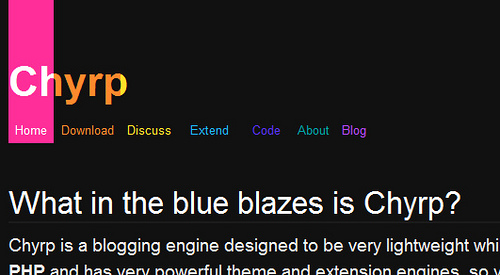 I wish the team the best of luck with all of their endeavours.